The first fully digitized solution for creating
transaction pre-screen
and market-ready
investment memorandums.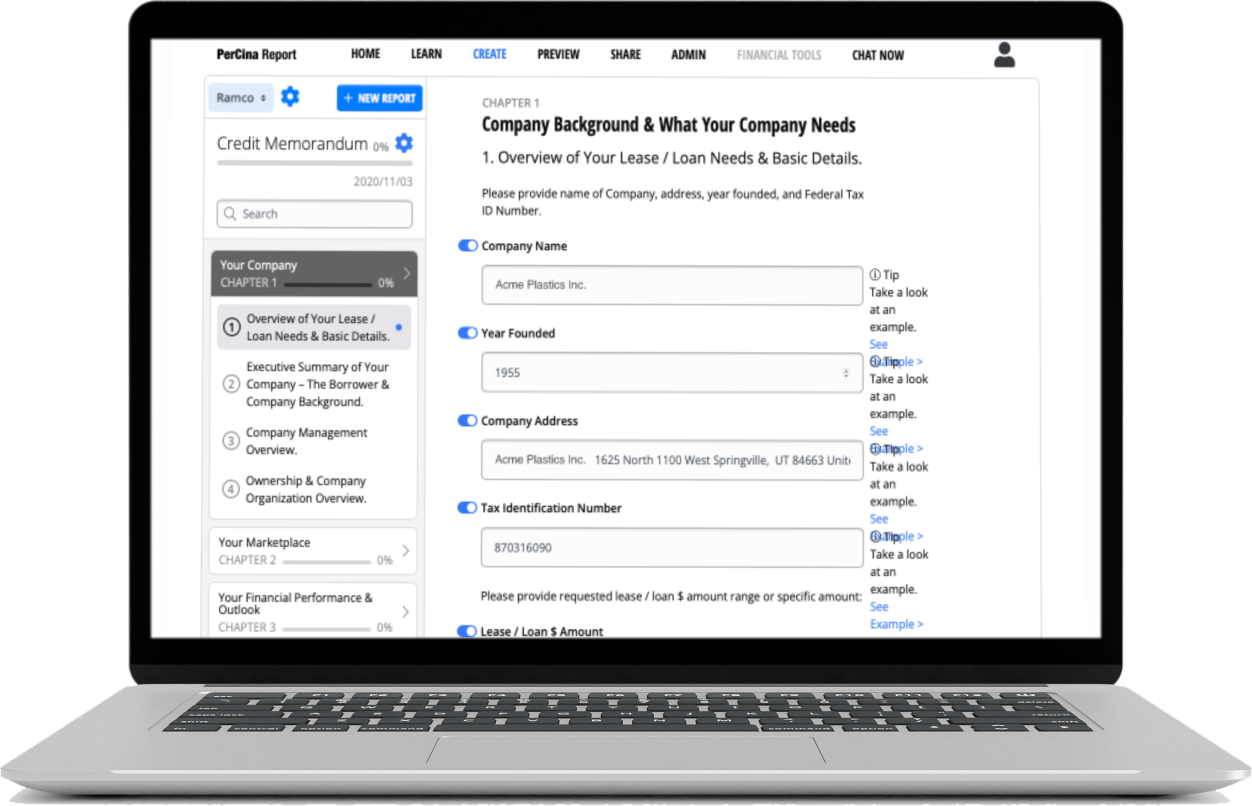 Need Capital
For Your Company?
You need to tell the right story with the right
investment memorandum.
Trying To Get Capital For Your Client's Business Growth?
You need to create a digital, world class investment memorandum or pre-screen, complete with story, analysis & data, and get it into the market fast.
Want to improve your deal underwriting and increase approval rates?
Leverage our decades of lending experience and digital credit ecosystem to collect data faster, more accurately, and spend more time analyzing credits the right way.
Pricing
BASIC
Individual/Corporate Single
$75/month
Annual Fee $675 (25% Savings)
1 user included
Cloud File & Report Storage
Limited
Training
On-Line Tutorials
Get Started
PRO
Adviser/Intermediary
$450/month
Annual Fee $4,050 (25% Savings)
5 users included
Cloud File & Report Storage
Extensive
Training
1 Train the Trainer Sessions, 1 Team Sessions
Customer Portal
Allows YOUR Customers To Upload Their Data Directly, up to 100 customers per year
"White" Label Capability
Get Your Company's Brand & Logo On Every Report
Get Started
Enterprise
Adviser/Intermediary
$ENQUIRE
Same features as PRO
Unlimited users
Unlmited Cloud File & Report Storage
Custom Training Packages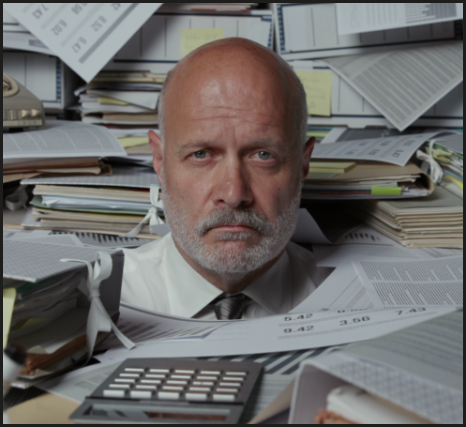 Need some Help?
If you would prefer to have a Percina Report created for you... no problem!
This usually takes between 2-3 days for normal turn around time, with all of the necessary information required.
The cost for a full Investment memorandum for your company:
starts at
$1,850
About Percina Report
The PerCina Report was created to help any company trying to borrow capital – whether for their own company or for their client's - by leveraging decades of Wall Street lending experience and technology.
The team and advisors at PerCina possess decades of lending experience and have collectively reviewed, underwritten, adjudicated or syndicated thousands of deals – all involving the story of a particular company.
Many of us spent time at GE Capital where in its lending businesses, the teams would review hundreds of deals each year. At every weekly pre-investment committee meeting (we called them PIC meetings) deals would be presented to management and screened or decisioned. How the deal "story" was presented was critical – even if the company possessed negative results.
All companies go through cycles and varied financial results. This doesn't mean a company cannot borrow the capital they need when they need to. How the company story is told is critical because it sheds light on how strong the leadership team is, what actions have been taken to mitigate either external or internal risks, and how the company is managed through difficult business cycles. Telling an effective company story is not about downplaying negative results, in fact it's just the opposite.
The PerCina Report's Digital Investment Memorandum Platform and Credit Analyst Ecosystem will help you position your company and your management team appropriately. Regardless of your company's results, effectively presenting your company requires a complete, accurate, interesting and forward-looking story. Lenders invest in management teams, not companies. Even if you have tough results, sometimes lenders get very interested in a "tough story told well"! Why? Because it reveals the strength of the leadership team. Yes, in these situations, a lender may be able to benefit from additional terms and conditions, but your company got your loan!
Let the PerCina Report help you tell your company's story better – so you can get the capital needed to grow.
The PerCina Team

Andrew Carman
Founder
Andrew Carman has been in structured credit and equipment finance for more than 25 years. Having run multi-billion financing businesses for GE Capital and Siemens, he expanded into FinTech thru MIT's educational platform, after which he created The Percina Report to specifically address the inefficiencies and lack of technology in today's structured credit market.

Ravi Juneja
Business Development Partner (Jean Martin Inc.)
Managing Partner, Jean Martin Inc. Experienced Managing Partner with a demonstrated history of working in the Financial & Data Analytics industry. Skilled in Trading, Structured Finance, Derivatives, Collateralized Debt Obligation (CDO), and Credit Default Swap (CDS). Strong business development professional

Keshav Rathi
Analytics Partner (Jean Martin Inc.)
Investment Banking Analyst, Jean Martin Inc., Chartered Accountant | Investor | Passed CFA Level 1 | Capital Market Enthusiast

Oli Batchelor
Marketing Partner
Oli has spent the last 15 years working as a generalist across most forms of digital media. With a focus on the financial sector, he has helped numerous companies communicate with their audiences across all channels in an ever changing media landscape.
Please contact us with your questions,
Suggestions or issues: